Construction of a Borehole in Ghana, West Africa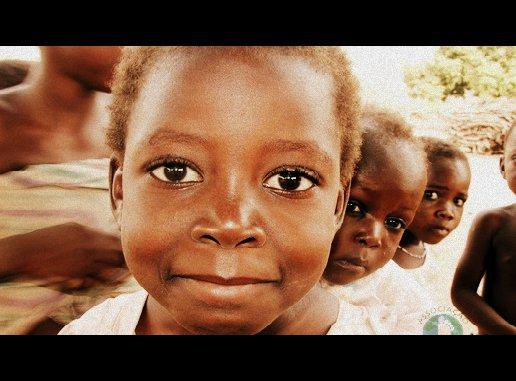 "Through the Lens" is a non-profit project aimed to give humanitarian support to a small rural African community in the south of Ghana, West Africa.

Through the Lens", has initiated a Photographic Exhibition "Smile, Play and Believe", with the aim of conscientizing and sensitizing the European public (since the photographic exhibition has occurred in countries like, Portugal, Spain, Estonia and in the near future in France) on the economical, social, health and cultural problems in developing countries of Africa like Ghana.
Through this event, we give an opportunity to the public to help improve the living conditions of people that despite living with poor resources they don't stop smiling.
The realized funds (through the selling of photos and/or donations) will be used in the construction of a borehole to provide potable water to the Abrafo community, because this is an issue of utmost necessity in developing countries of Africa, especially in rural communities like Abrafo.
"Through the Lens" is the first project of the Association "Pé No Mundo". We believe that from here much more will come and we are open to new ideas and mainly to people with the WILL to contribute to make this world a better place.

THE ABRAFO COMMUNITY
Abrafo is one of the many poor and vulnerable agricultural communities of the Ghana where the question of health and survival associated with water resources are critical. The lack of access to potable drinking water and poor sanitation results in frequent illnesses and deaths.
Abrafo is a farming community of about 6000 people. However, due to unavailability of potable water, the community relies mainly on untreated residual ground water and streams for their domestic and agricultural activities.
Although the Ghanaian government has prohibited the use of such water for domestic activities and irrigation purposes, farmers continue to use it because of no alternatives.
The major risk of using residual water is the negative impact on public health. It contains pathogenic microorganism and heavy metals. Pathogenic microorganism such as the bacterium Escherichiacoli and Helmintos cause serious diseases like dysentery and diarrhea.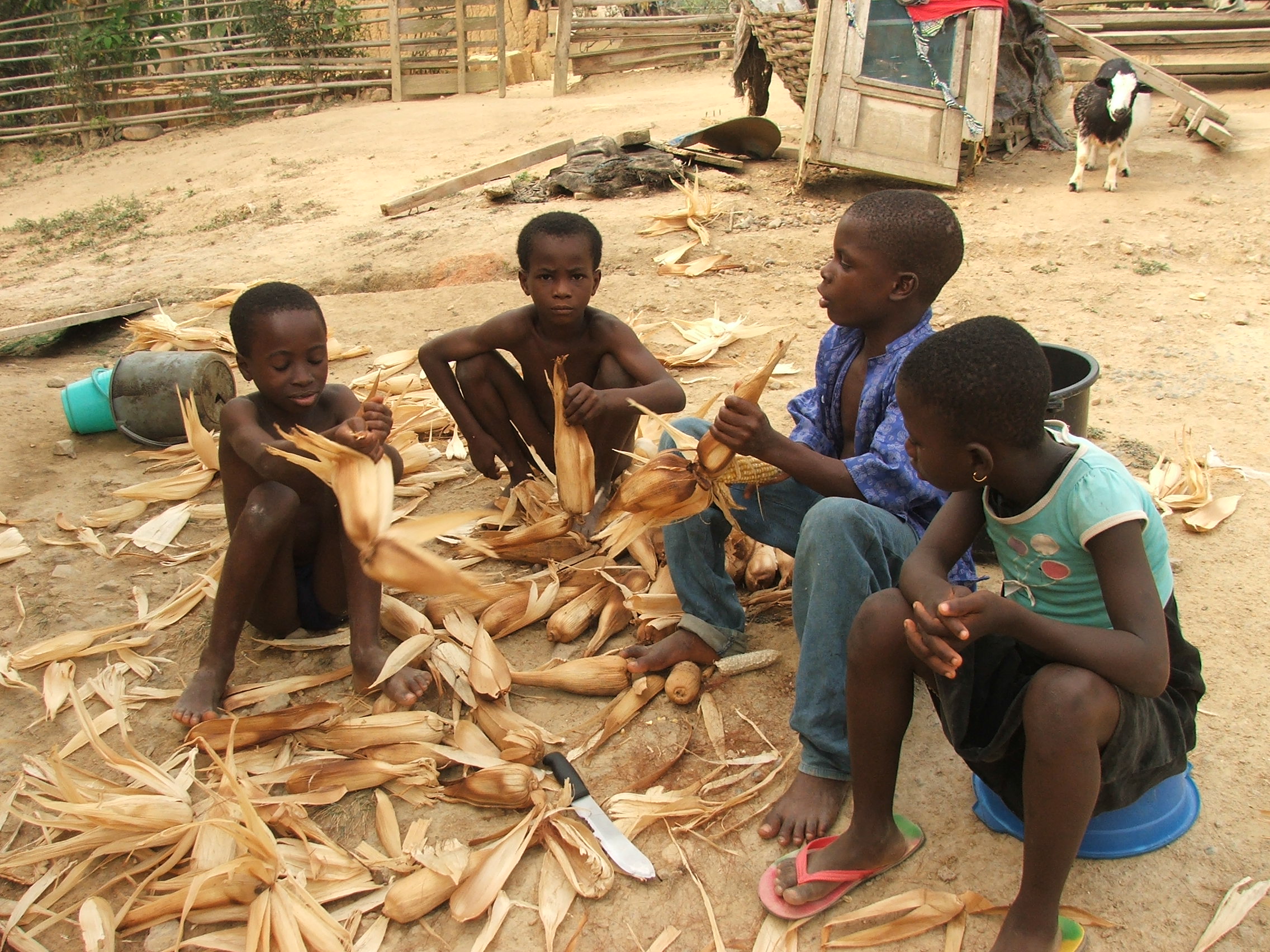 Children peeling corn. Abrafo Community, Ghana 2005.
THE PROBLEM OF CONTAMINATED WATER
Recently in the year 2000, 1,3 million children under five year old died as a result of diarrhoea caused by unhealthy water and bad sanitary conditions.
About 60% of world wild infantile mortality is caused by infections and parasitic illnesses, the majority related to water.
The diseases transmitted through water are, among others: cholera, typhoid fever, shigella, poliomyelitis, meningitis, hepatitis A e E and diarrhea.
These illnesses are mostly contagious, but can be easily controlled with better hygiene. Hence, the need to provide adequate supply of potable water.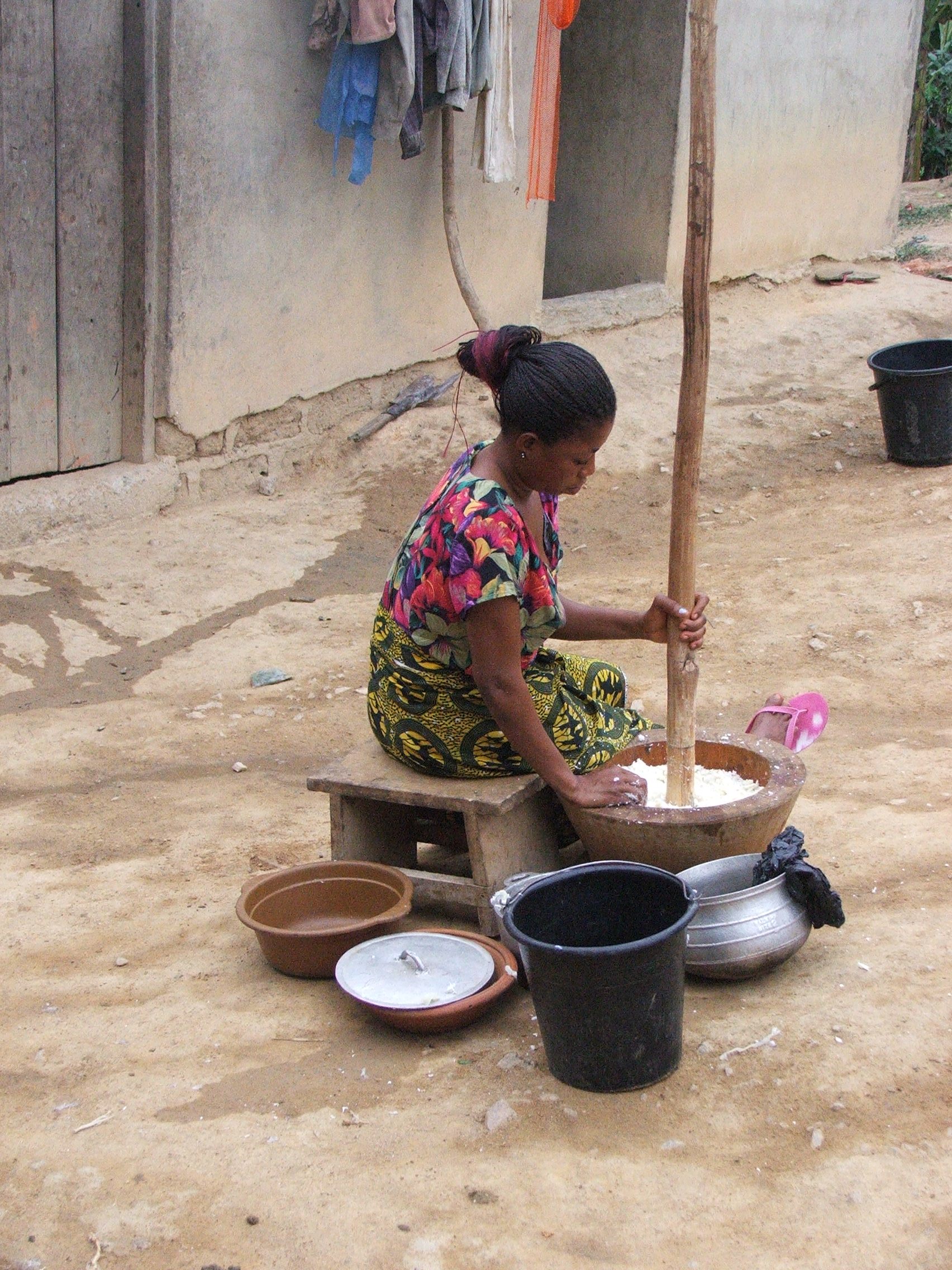 Sister 'Yaa' is pounding 'fufu'. Abrafo community, Ghana 2005.
BIOGRAFY OF THE AUTOR
Ana Catarina Santos is a Biologist born in Lisbon in 1981. In 2004/2005 she traveled to Africa were she lived in Abrafo, a small community in Ghana. The purpose of her journey was to conduct research on the elephants of Kakum Conservation Area in partial fulfillment of her Biology Degree.
An encounter with the largest land mammal was something that she had long hoped for. However, she never expected that ultimately, her main passion would turn out to be different, that is the African people. Daily life with the Abrafo community changed her vision and way of life.
Ana left Ghana with sadness and a desire to go back, but most off all to do something to help the people of Abrafo that welcome her so well. Based on that feeling, an idea to produce a photographic exhibition was initiated in order to raise funds for the construction of a much needed potable source of water in the Abrafo community.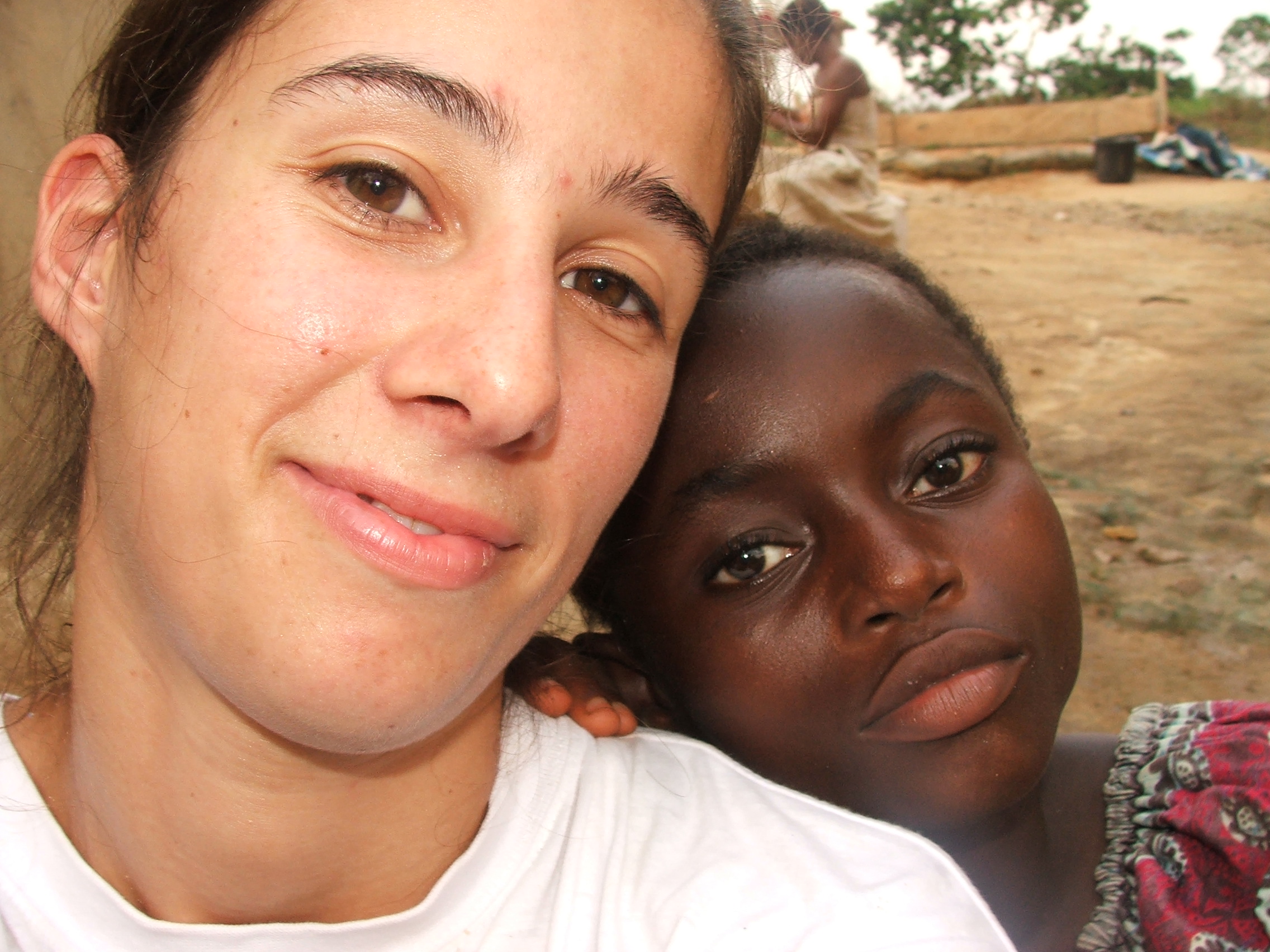 Ana Catarina Santos with Dina Gyampo (Mabeena).
Abrafo Community, Ghana 2005.